BDT Customer Support: Your Central Hub for API Technical Support
Published by: Boeing Developer Tools | Posted: Nov 2, 2023 10:26 PM GMT+0
In the world of API consumption, streamlined support is crucial. As a Boeing Developer Tools (BDT) customer, we understand your need for a hassle-free experience, which is why we're thrilled to announce our latest enhancement: the BDT Customer Support Intake Form.
Navigating the New Customer Support Form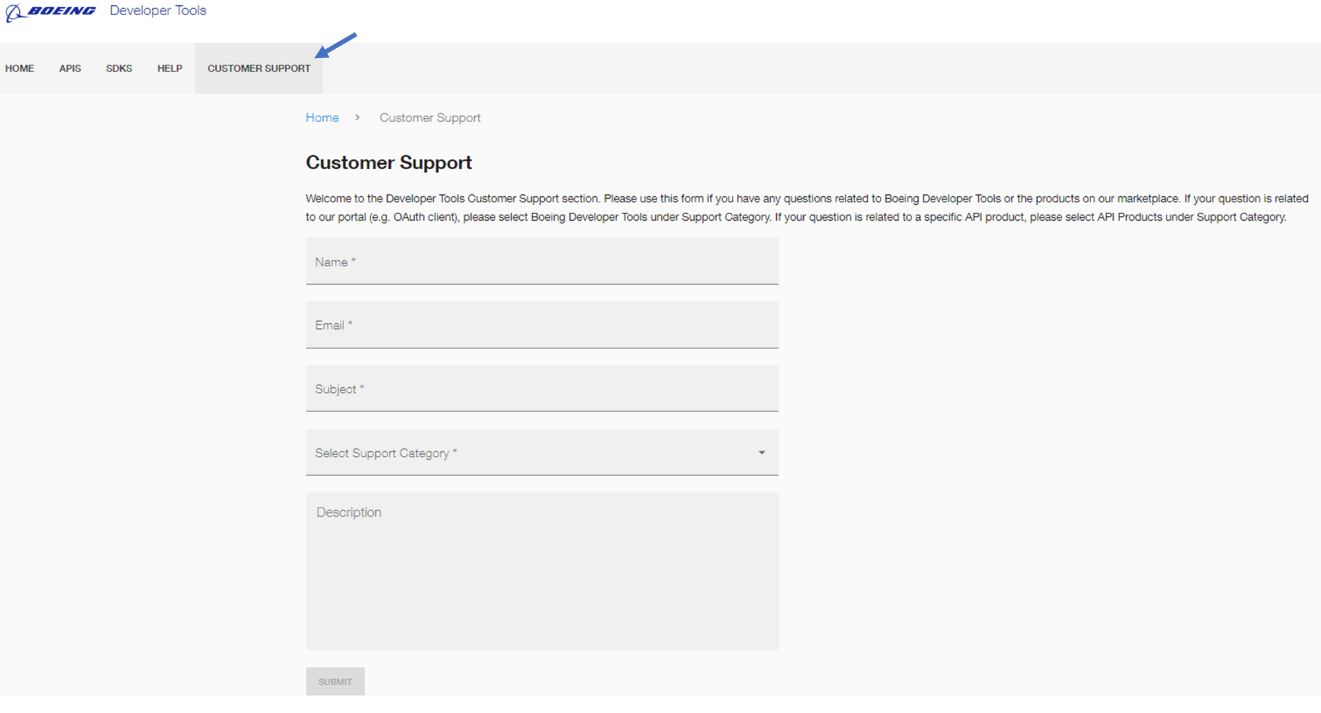 To make your interaction with BDT as smooth as possible, we've launched a central location for all your questions and concerns. You can find this new feature on our portal under the New "Customer Support" tab. This enhancement is designed with your convenience in mind.
The Customer Support system features a user-friendly form with mandatory fields that ensure we can efficiently address your questions:
     Name: Simply provide your name.
    Email: This automatically populates the "From" line for your email.
    Subject: The subject field will include a "BDT API Support" prefix to help us quickly identify your request.
    Select Support Category: Here, you can choose between "Boeing Developer Tools" and "API Products."
    Select Product (Conditional Dropdown): If you opt for "API Products," a list of BDT API products configured with                 associated contact emails will appear. Depending on your choice, the appropriate product team will be contacted.
    Description of Request: Use this space to describe your question or issue. This will populate the body of the email.
Streamlined Support with Efficient Responses
When you submit your query through this form, you can expect a swift response from our team. We've designed the system to ensure that your request reaches the right destination:
A Central Hub for Communication
With this new Customer Support feature, you can now reach out to API publishers or the BDT team directly from a central location. Whether you have questions about specific products or need assistance with the BDT Portal itself, this form is your go-to solution for quick and effective communication.
As part of this enhancement, we will be removing the existing Customer Support section within the current Help tab to streamline your experience further.
At Boeing Developer Tools, we are dedicated to enhancing your experience and making our services more accessible. We hope this new Customer Support feature proves valuable to you, and we look forward to assisting you with any questions or concerns you may have.